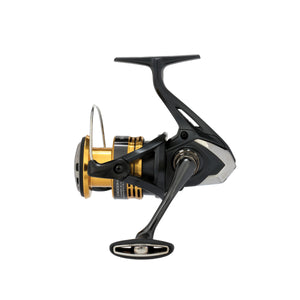 Shimano Sahara FJ Spinning Reels 500
SIZE 500 ONLY!
Designed for entry level and experienced anglers alike, the Shimano Sahara FJ Spinning Reel is lighter in weight and boasts an entirely new body and rotor design than previous generations to provide anglers with dependable performance while pursuing their next trophy catch. Featuring Shimano's HAGANE Gear for increased durability and long lasting performance, the Shimano Sahara FJ Spinning Reel is internally equipped with SilentDrive technology for more refined and smoother reeling performance. X-Ship technology also supports the pinion gear on both sides, which keeps the gearing perfectly inline to prevent gear torque when fighting hard-charging game fish. On the spool, Shimano's Propulsion Line Management System gives anglers increased casting distance, allowing them to cover more water to maximize efficiency. Offering the ultimate bang for the buck, the Shimano Sahara FJ Spinning Reel is perfect for both weekend bank anglers and touring professionals.
Features:
-HAGANE Gear
-X-Ship
-SilentDrive
-Propulsion Line Management System
-G-Free Body
SIZE 500 ONLY!