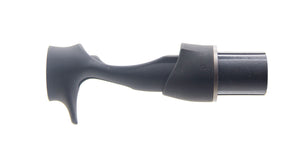 SeaGuide PLXCZS
SEAGUIDE New Trigger Casting Reel Seat.
New built-in click mechanism hood/nut allows the reel foot to be more firmly fixed.
Smaller trigger and ergonomic design improves balance and reduces fatigue.
Blank-exposed design allows trigger finger to be in direct contact with the blank to improve the sensitivity of lures and strikes.
Unique design brings new concept and experience to anglers.
Has rubberized coating on it.   
ID: 15mm
Hood OD:27.5mm
Hood ID: 21mm