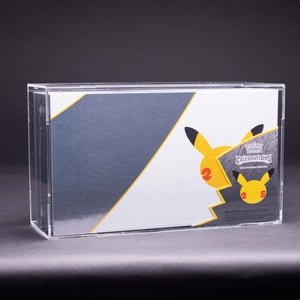 Celebrations Ultra Premium Collection Box Case
The Ultra Premium Collection box is the ultimate collection box any hobbyist or collector can obtain.  Protect your investment with out clear premium boxes!  The snap fit lid securely keeps everything in and protected.  This case only fits the Celebrations Premium Collection Box.  The sword and shield box is too big for this case!

This is a PREORDER ITEM!
Each case is cut from a local company, assembled and glued inhouse!   
All orders will be shipped in the order it was recieved.